AIR AD, hot air heaters for under-ceiling installation with direct blowing
ADRIAN-AIR AD are designed for under-ceiling installation with direct vertical blowing and destratification. Gas hot air heaters are equipped with an axial fan and a two-stage burner.
Kód produktu: AIR AD
I am interested in the product
Advantages of a gas air heater with direct blowing
power ranges from 13 to 80 kW with air flow from 3 580 to 10 000 m

3

/h,

perfect alternative to condensing heaters,

installation in under-ceiling spaces,

vertical blowing of heated air into the space,

intake of air from the internal environment,

two-stage burner in standard equipment,

destratification, to ensure air circulation,

axial fan.
Technical data of the gas heater with direct blowing
| | | | | | | | | |
| --- | --- | --- | --- | --- | --- | --- | --- | --- |
| | | A1 | A2 | A3 | A4 | A5 | A6 | A8 |
| Power input | [kW] | 15,1, | 20,80 | 28,30 | 34,40 | 49,50 | 60,50 | 79,50 |
| Nominal power (Prated,h) | [kW] | 14,10 | 19,40 | 26,50 | 32,10 | 46,30 | 56,90 | 73,90 |
| Efficiency at nominal heater output (ƞpl) | [%] | 93,10 | 93,30 | 93,70 | 93,40 | 93,50 | 94,00 | 93,00 |
| Minimum power (Pmin) | [kW] | 10,50 | 14,50 | 20,00 | 24,70 | 35,10 | 43,20 | 56,00 |
| Efficiency at minimum heater output (ƞpl) | [%] | 90,50 | 91,00 | 91,60 | 91,40 | 91,50 | 92,00 | 91,00 |
| Fan speed | [ot/m] | 1 350 | 1 350 | 1 350 | 1 050 | 1 350 | 910 | 900 |
| heater air flow | [m3/h] | 1 400 | 2 100 | 3 000 | 3 800 | 4 800 | 5 800 | 7 100 |
| Delta T° of air | [°C] | 24,10 | 24,20 | 26,20 | 26,40 | 24,70 | 25,10 | 24,70 |
| Air throw | [m] | 12 | 12 | 16 | 23 | 28 | 28 | 28 |
| Gas consumption at 15°C, G20, mbar | [m3/h] | 1,50 | 2,12 | 2,86 | 3,60 | 5,29 | 6,35 | 8,47 |
| Gas consumption at 15°C, G25, mbar | [m3/h] | 1,67 | 2,35 | 3,18 | 4,00 | 5,88 | 7,06 | 9,41 |
| Gas consumption at 15°C, G31, mbar | [kg/h] | 1,11 | 1,56 | 2,11 | 2,66 | 3,91 | 4,69 | 6,25 |
| Flue gas outlet diameter | [mm] | 80 | 80 | 80 | 80 | 130 | 130 | 130 |
| Air inlet diameter | [mm] | 125 | 125 | 125 | 125 | 130 | 130 | 130 |
| Pressure in the flue gas outlet | [Pa] | 8 | 15 | 25 | 35 | 35 | 40 | 60 |
| Flue gas flow at 130°C | [m3/h] | 30 | 40 | 60 | 70 | 100 | 120 | 160 |
| Electric input | [VA] | 290 | 310 | 320 | 350 | 500 | 580 | 750 |
| Electricity consumption (except rear fan) at nominal (elmax) and minimum (elmin) heat output | [kW] | 0,07 | 0,07 | 0,10 | 0,10 | 0,10 | 0,15 | 0,18 |
| Seesonal energy efficiency (ƞs,h) | [%] | 72,60 | 73,40 | 74,00 | 74,10 | 73,40 | 73,80 | 72,60 |
| Weight | [kg] | 54 | 82 | 82 | 92 | 125 | 152 | 194 |
| Noise at a distance of 5 m in free space | [dBa] | 42 | 43 | 47 | 46 | 56 | 54 | 53 |
Dimensions of a gas air heater with direct blowing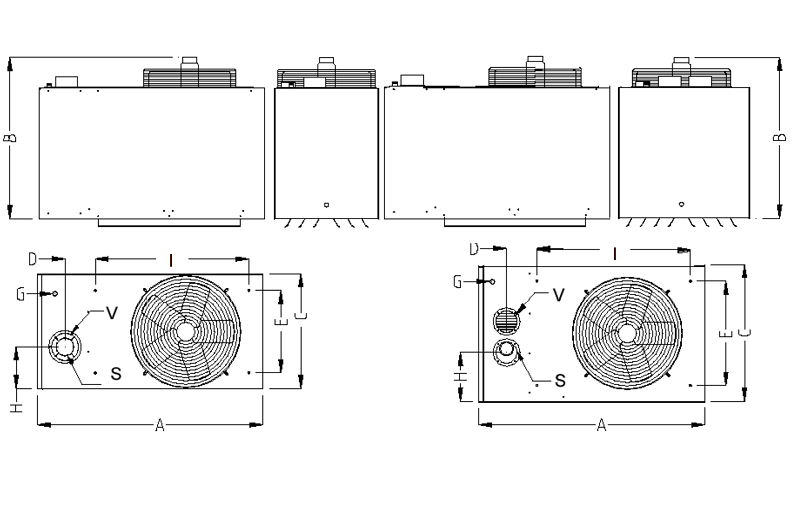 | | | | | | | |
| --- | --- | --- | --- | --- | --- | --- |
| Model | | AD3 | AD4 | AD5 | AD6 | AD8 |
| A | [mm] | 1 040 | 1 040 | 1 040 | 1 120 | 1 120 |
| B | [mm] | 700 | 840 | 840 | 840 | 840 |
| C | [mm] | 460 | 510 | 700 | 820 | 1075 |
| D | [mm] | 120 | 125 | 134,5 | 149,5 | 149,5 |
| E | [mm] | 380 | 430 | 610 | 730 | |
| H | [mm] | 165 | 185 | 250 | 355 | 460 |
| I | [mm] | 677 | 677 | 677 | 677 | |
| Ø flue gas discharge | [mm] | 80 | 80 | 130 | 130 | 130 |
| Ø air | [mm] | 125 | 125 | 130 | 130 | 130 |
| Ø G (gas) | ["] | 1/2 | 1/2 | 1/2 | 3/4 | 3/4 |
| Weight | [kg] | 82 | 92 | 125 | 152 | 194 |