Door heater for industrial hall gates
Air curtains, also referred to as door curtains, are devices that blow a controlled flow of air into a door space to form an air seal. The air curtain can be located above or on the side of the entrance door or gate. This seal separates two different environments and at the same time allows a smooth uninterrupted passage and view through a door, gate or other opening. Air curtains help retain heated or conditioned air and thus contribute significantly to energy savings and increase the personal comfort of people indoors.
Air curtains are used in industrial or commercial operations. They also act as a filter and stop the penetration of dirt, fumes and combustion products as well as flying insects.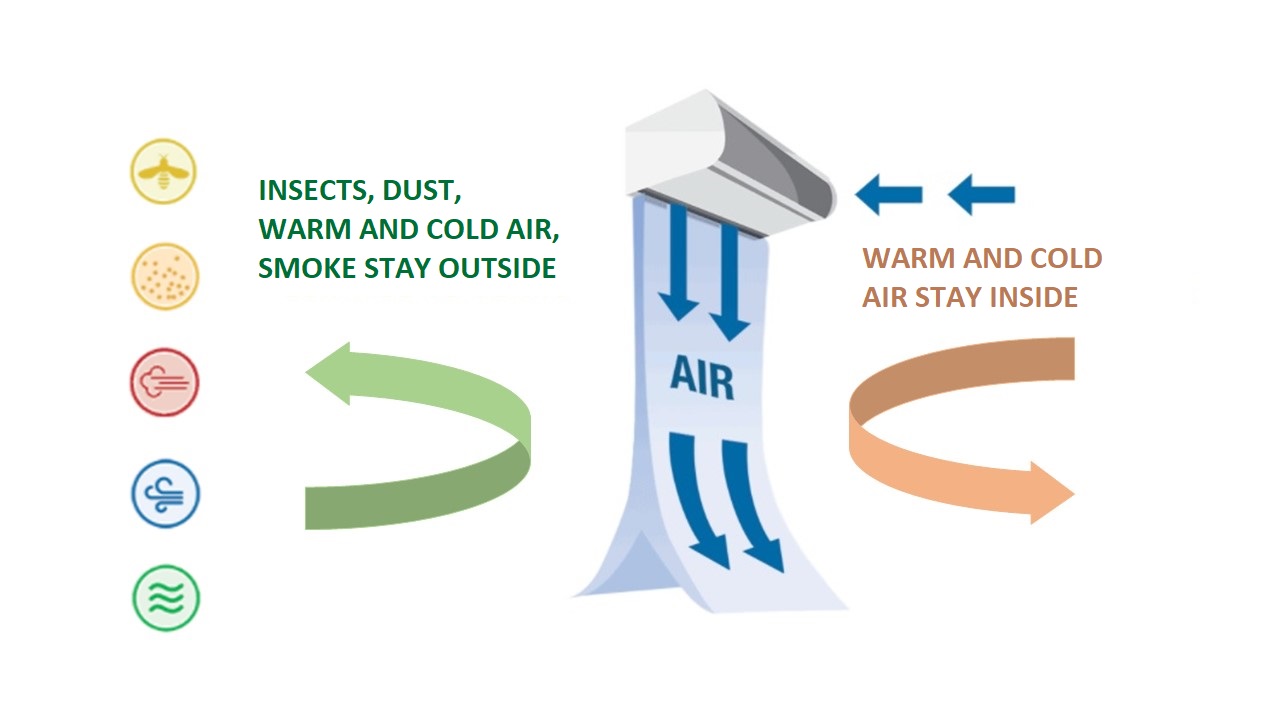 How does the air curtain work?
When switched on, the air curtain sucks in air from the interior. The air enters the air curtain device, where it is accelerated by a fan. The air thus accelerated passes into the overpressure chamber, where it is evenly distributed along the entire length of the discharge nozzle. The wing-shaped blades in the nozzle create an even air flow with minimal turbulence. The air is discharged through the nozzle and is directed in the form of a stream to the floor. Approximately 80% of the air returns to the intake side of the air curtain and 20% goes in the opposite direction.
Why use an air curtain?
energy savings due to air transfer control,

energy savings due to shorter running time of the air handling unit or compressor,

reducing ventilation and air stratification,

increase the comfort of employees / customers,

reduce infiltration by flying insects,

does not impede the smooth passage through the door and does not impair visibility,

usable space is created in the vicinity of the door,

removes ice and haze in cold storage areas.
In recent years, the range of air curtains has undergone several fundamental changes, whether in the range of performance, technology used, regulation or design modifications. We currently offer gas condensing, gas or non-heating screens. Air curtains are a desirable addition to heating and cooling with a significant impact on the results of the entire energy system.
The most common mistakes when installing door curtains:
Blowing outwards - bad or none

Doors - method and frequency of opening, most common timing of opening

Operation – choice of horizontal/vertical installation

Secondary flow – the position of the nearest workplaces and the impact on them

Pressure ratios – air movement under the influence of ventilation or other gates

Air heating – consider the need and rationale in having the heating
Expert inspection, professional installation and high-quality service are a guarantee.
Example of wrong installation